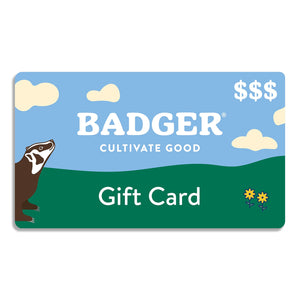 Badger Gift Card FAQs

How does this Gift Card work? This is a digital product, not a physical card. After purchase, you will receive an email with details and a unique code, which you can then forward to someone or print it out and give it to them. The amount of the card can be used to purchase anything on our website and will even go toward shipping! Simply enter the code at checkout. A great gift, no plastic required.

Do these expire? Nope, our Gift Cards never expire.

If I buy a Gift Card, will it count toward my free shipping minimum? Sorry, no. The Gift Card is a digital product and is not shipped, so it does not count toward the amount you need to spend to get free shipping.

Will I get the free gift if I only buy a Gift Card? No. We will send you a free gift if you buy any physical product that we ship to you.

Can I use a coupon code to get a discount on a Gift Card? No, coupon codes don't work on Gift Cards, but you can use a coupon code when you check out using a Gift Card.

Can I redeem it for cash if I don't use it? No, these can only be used to purchase products on badgerbalm.com.

What if I don't use the full amount at once? No problem! You'll still have the remaining amount to use anytime.

What if my purchase is more than the amount of the card? You can enter an additional form or payment at checkout to make up for the rest.

What happens if I lose it? Contact Badger customer service at custserv@badgerbalm.com. We're here to help.

Can I use this Gift Card in stores? No, these Gift Cards can only be used on badgerbalm.com.

---
ABOUT US
Working toward a healthier world.
We strive to respect both people and planet, which means paying a living wage, offering flexible employee scheduling, and advocating for better business legislation in Congress. Our operations are 100% solar-powered, part of our goal of Net Zero by 2030.
OUR PRODUCTS
Consciously crafted, powerfully pure.
From balms to mineral sunscreens, we believe making the very best products means getting close to the source. We partner with farms around the world to source organic, sustainably grown ingredients from nature, and we make our products right here in our NH facility.
THE BADGER PROMISE
We're committed to quality.
We hold every product to the highest standard of quality and efficacy. If you're ever dissatisfied with a Badger product purchased from our website, you can always return it to us for replacement or a refund. We offer free shipping over $35 and a free gift with every order.